[maxbutton id="4″]
The table layout of a wedding reception can be challenging to plan, but a suitable format encourages mingling, conversation, and celebration. By designing the tables carefully, the bride and groom can ensure their wedding reception is a success.
Planning the Table Layout of a Wedding Reception
You must carefully plan the table layout no matter how long the guest list lasts. The first step is to give the overall room an efficient flow and then design individual tables for the best effect.
Room Set Up Layout
For example, round tables are accessible, but long rectangular tables can be better for a large group. Tables should also work well with the room's shape – long tables are best in a narrow space, while round tables are more versatile for uneven room shapes.
Once couples know how many are needed tables, they can plan the room layout. Factors to consider when planning the wedding reception table layout include:
Dancing: Enough space should be left for a dance floor so guests can dance the night away without crowding.
Visibility: Key spaces for reception events need to be visible from all tables. The couple's grand entrance, first dance, cake cutting, and wedding toasts are popular photo events, and guests need good visibility to capture these romantic moments.
Movement: There should be enough space between tables to allow smooth traffic flow to restrooms, a buffet area (if necessary), the bar, the dance floor, and general mingling.
Lighting: Tables should be positioned effectively for the available lighting. For an evening event, be aware of how a setting sun may blaze through windows, and be sure there is plenty of light for guests to enjoy dinner.
Individual Tables
Once a basic table layout is decided for the entire room, couples can plan the wedding reception seating chart and other details for individual tables. Items to consider include:
                                                Give each guest enough space.
Personal Space: Cramming too many guests at a single table will be awkward and uncomfortable. The number of guests a table can seat depends on the table's size and the type of meal: guests will need more space for a full, formal dinner than light snacks.
Children: If there will be children at the wedding, they can be grouped if they are old enough to sit away from their parents. Younger children should always be seated next to one parent, grandparent, or guardian.
Gender: Many wedding reception layouts alternate male and female guests in individual seating assignments to encourage mingling.
Couples: Guests who attend the wedding as a couple should always be seated together. This includes members of the bridal party who attend with their significant other who may not be in the wedding party.
Compatibility: Guests should be seated with individuals they will be comfortable with. Age, hobbies, interests, and personality should be considered when creating a seating chart. In addition, age and personal relationships should be considered. Creating seating may have a complicated layout, and there should be an easy way for guests to find their seats. Place cards are attractive, or a labeled table diagram could be available near the entrance.
Decorations: The wedding table decorations should be chosen to not interfere with conversation or restrict personal space for each guest.
The Head Table
Tiers are famous for the head table.
The head table is one of the most important at the wedding reception. In addition to the bride and groom, other individuals commonly seated at the head table include ;
the couple's parents and the bridal party, or at least the maid of honor and best man depending on the available space. 
Keep the table visible. Tiered or elevated designs are popular.
Add extra decorations to distinguish the head table from other reception tables. Backdrops, special lighting, and elaborate centerpieces make this table stand out easily.
Keep everyone at the head table facing the guests. Round tables are generally inappropriate for the head table.
Miscellaneous Tables
When planning the table layout of a wedding reception, couples often need to include specialty tables and seating. While not all of these tables will be required at every reception, knowing how to place them effectively will help keep the reception both beautiful and efficient.
Cake Table: The cake is the centerpiece of the reception and is placed in a visible location. At the same time, be sure there is enough space around the cake table for pictures without any danger of the cake getting damaged by a crowd.
DJ: The wedding DJ or band may need special table arrangements. It is best to place these tables near the dance floor or room setup entrance.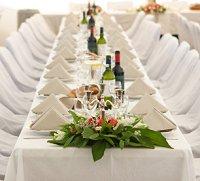 Long tables are efficient.
Gift Table: Guests may bring gifts to the reception, and a display table can showcase them elegantly. The table should be located discreetly away from the entrance for better security.
Guest Book Table: This table should be visible near the entrance to encourage all guests to sign the guest book. Many couples opt to put the guest book table in a foyer or other prominent location.
Wishing Well: Like a gift table, a wishing well should be discreetly placed where it is more secure but still visible.
Getting Help to Plan Your Layout
Most reception venues will have sample layouts available to assist couples with planning the table layout of a wedding reception. Sample table diagrams can also be found BELOW at Reception. Planning the tables for a wedding reception can be complicated, but good planning will help the reception flow smoothly and be more enjoyable.
Here is a helpful handout on room setup.
Room set up Setting The Stage.
We hope you enjoy this other post on Pinterest
https://www.pinterest.com/explore/wedding-reception-layout/.
If you're planning a wedding in Southern Indiana or Western Kentucky and want a great wedding DJ, Contact the wedding professionals at Spectrum Sound. And schedule a Free, no-hassle consult to get pricing; call us at (812) 431-8085 OR TEXT.
Room set up
[maxbutton id="4″]
Complete Wedding and Event Production – DJ Entertainment, Photography, Photo Booth, and Videography Services. 
If you want to meet the most experienced, fun, and versatile DJ professionals and Mc's in the TRI-STATE area, call my office at 1.812.401.4931!
You and your partner deserve to have the wedding of your dreams. I will help you create this fantastic event by consulting on every detail, from questionnaire responses to planning meetings with me!
We're masters of our craft, and music is our passion. Therefore, preparation is critical, and we start early. In our initial consultation, please tell us what kind of music you like, what vibe you're going for, and which song you never want to hear again. If you're going to jam to Beyoncé all night, your wish is our command. Our DJs show up early and stay until everyone is adequately partied out. They are personable, funny, and know how to rock any dance floor. In Evansville, Jasper, or anywhere near you in Western Kentucky, we're available for your wedding, corporate event, or party where you want people dancing!
DJ/MC/VJ Terry Tunks and his talented team of entertainers have entertained thousands of events. Evansville, Indiana; Newburgh, Indiana; Owensboro, KY; Southern Indiana, and Kentucky. In towns like JASPER, FERDINAND, FRENCH LICK, WEST BADEN, HUNTINGBURG, AND SANTA CLAUS, In. 
All documents and Articles given by Terry Tunks and Spectrum Sound may not be used in any form, including copying elements designed for personal and commercial use.